Join AXCS
Great benefits year-round! Both USA & international memberships.
Image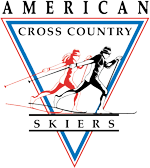 xcskiworld.com is made possible by members of the non-profit, 501c3 American XC Skiers (AXCS) association. The free access resources you find throughout this website have been a gift to the XC community since 1995 because of AXCS members. Please do your part to support this site (and the many other great works of AXCS) by becoming a member of AXCS today!
---
Creating New XC Ski Events: The Blue Sky Checklist -- Got a great idea for a new or improved XC ski event? Here's a reality check-list that can help quickly determine the feasibility of your idea right from the start.
---
Much more coming soon as we complete the re-boot of xcskiworld.com! Remember also that members of AXCS annually get loads of exclusive print and on-line content from around the XC world that is not available in this section!