Join AXCS
Great benefits year-round! Both USA & international memberships.
Image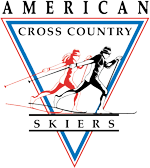 XC ski events are a huge part of skiing fun and motivation for skiers of all ages -- but particularly for adult skiers. All of us ski most of the time alone or with just a couple friends. XC events for masters allow us to get out of the box and enjoy a variety of distances and often routes that we'd never be able to experience on our own. XC events also provide day-to-day motivation to stay fit both in the off-season and winter alike. Finally, XC events provide a perfect reason to travel to amazing destinations around the XC world. You don't have to be super serious. You don't have spend a ton of money. But make it a priority to get out there and experience XC events every winter!
Major Events for Masters Skiers
2024 Masters World Cup: Vuokatti, Finland -- AXCS Trip Dates: February 7-17 (races from February 11-16, 2024)
2025 Masters World Cup: Klosters, Switzerland -- dates mid-March, more info coming.
Major Elite Events For XC Ski Race Fans
FIS International & World Cup Race Calendars
U.S. Championships & SuperTour
2025 Nordic World Championships (Trondheim, Norway)
2026 Winter Olympics (Milan/Cortina, Italy)
2027 Nordic World Championships (Falun, Sweden)