Join AXCS
Great benefits year-round! Both USA & international memberships.
Image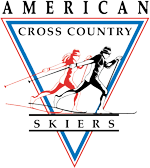 XC ski events are a huge part of skiing fun and motivation for skiers of all ages -- but particularly for adult skiers. All of us ski most of the time alone or with just a couple friends. XC events for masters allow us to get out of the box and enjoy a variety of distances and often routes that we'd never be able to experience on our own. XC events also provide day-to-day motivation to stay fit both in the off-season and winter alike. Finally, XC events provide a perfect reason to travel to amazing destinations around the XC world. You don't have to be super serious. You don't have spend a ton of money. But make it a priority to get out there and experience XC events every winter!
Major Events for Masters Skiers
The World Masters Association and the local Canmore/CAN Organizing Committee have officially moved forward with all plans and preparations for the 2022 Masters World Cup event in beautiful Canmore/CAN -- March 4-11, 2022. All plans are being built with the upmost focus on holding a fun, worthwhile and (most importantly) safe event for all participants. We realize that the on-going COVID-19 pandemic will continue to present new challenges. But all global trends and forecasts point to outdoor events as of March 2022 having a very high probability of smooth operations, viable travel, and low risk for participants and host communities alike. We urge all masters worldwide to start making your plans to join us as the world comes to Canmore in 2022!
2022 Masters World Cup & AXCS National Masters:  Canmore, Alberta, Canada -- March 3-11, 2022
The MWC2022 will also double as the 2022 AXCS National Masters with separate award ceremonies to recognize top 3 USA skiers in all individual races.
2023 Masters World Cup:  TBD 
Major Elite Events For XC Ski Race Fans
FIS International & World Cup Race Calendars
U.S. Championships & SuperTour
2022 Winter Olympics (Beijing, China)
2023 Nordic World Championships (Planica, Slovenia)
2025 Nordic World Championships (Trondheim, Norway)