Join AXCS
Great benefits year-round! Both USA & international memberships.
Image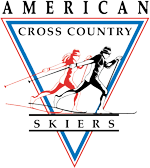 MWC2023 USA Relay Information
--> Every nation is allowed one relay team per relay category at the Masters World Cup. For women, relay categories are in 10 year blocks. So the women's 1 and 2 individual categories (30-34 and 35-39 years) are combined for a single women's 1-2 relay medal category. For men, relay categories are in the normal 5 year age categories as individual races. So everyone understands the logic here for bigger female relay age groups (so fewer relay options) -- historically MWC registration is 2:1, male:female. North American attendance balance is a lot better than 2:1 on gender ratio, but in Europe -- not so much.
--> The official MWC rules regarding MWC relays have changed significantly in recent years. The really simple summary of the new rules is that every "legal" MWC relay team now only has to have ONE (1) skier in the actual age/gender category of the relay team. The other three skiers can be from the same age/gender category or dropped down from older categories. It is NEVER possible to move a skier "up" in age -- only "down".
--> The other significant rule change is that alternates and line-up changes can be declared much later in the game than previous years. So AXCS will keep a lot of options in play until race morning at the point that we know all four (4) skiers for a given line-up have picked up their relay bibs (separate of individual bibs) and are ready to rock n' roll.
--> In what Hollywood would call more of a guideline than actual rules (bonus points if you know that movie reference), AXCS does everything reasonable to field teams mostly (or all) from the actual age category. We have a big contingent and it is fairer to skiers within our contingent and also skiers from other nations that we avoid "stacking" certain categories with our best skiers regardless of age. At the same time, we want to kick butt and take names -- so there is a balancing act here.
--> Because we have a big contingent for MWC2023 and we can only field one relay team per category, in some relay categories we will have tight competition between USA skiers for spots. In some cases, we will drop "bench" skiers down in age to fill spots on younger teams if they are simply faster than some skiers in younger ages. In other cases, we will depend on those "bench" skiers to be ready to be alternates in case a named USA athlete can't race (this happens a lot more often than you think).
--> Closer to the MWC, there will be two USA Relay Availability links (Google sheets) posted on the Team USA Information Page. One for men, one for women. If you would would like to be considered for the USA relays, you are requested to put your name on those sheets. You need to put what technique you are equipped and ready to do. Do not fester about whether you think you'll ever be selected (that doesn't help), just put your name down if you'll race if selected. If you won't or can't -- ignore the Availability link.
--> On the night after the short distance races (two nights before the MWC Relay), AXCS National Director J.D. Downing will sequester himself in his palace of solitude (hotel room) and spend most of the night working out the "named" USA line-ups for all relay categories. 
What criteria is used in this selection process?
The relay selection process is based on a mixture of head-to-head results from the first two MWC competition days with some weighting towards the "short distance" 10/5km races (because the relay legs are just 5km) -- direct comparison (when available) to other USA and international skiers in the category -- and then (if all else fails) a simple point system (1st American 1 point, 2nd American 2 points, etc. with lower "score" winning out).
With some relay categories the relay teams are very easy. We'll have a top 2 classic and a top 2 skate (or an obvious balance). On some age categories, it will be literally splitting hairs between skiers. It has taken J.D. literally over an hour to decide between 2-3 skiers in past years. 
Nothing involving USA relay selection will be done on a whim. Every single one of you that make yourself available for the relay will honestly, truly, absolutely be fairly considered for multiple placements (your age group or younger). There will be logic and rationale with every selection. Feel free to ask J.D. if you have questions. It is a guarantee that there will be extensive notes why tight selections go one way or the other.
-- The final submitted USA relay team line-ups as selected by USA National Director J.D. Downing will be posted on the Team USA Info Page as early as possible on the morning of the MWC rest day.
-- If your name appears on the final relay line-ups as either a named racer OR alternate, we absolutely need you to be ready-to-ski effective MWC Relay morning.  If you know you can't race (illness, injury, other emergency) you need to get word to J.D. immediately -- seriously, immediately. Alternates that can ski both techniques are generally asked to have both sets ready at the venue on race morning (yeah, AXCS understands that's a pain so just do the best you can).
-- For alternates, we need you to be ready-to-race all the way up until bibs are picked-up effective relay morning. If anyone wakes up on the rosters unable to perform -- YOU then become front and center our only options to ski. Yes, sometimes (especially in Europe) running alternates can take us out of medal contention. But everyone can still have a fun race. You also never know what might happen with other nations. Sometimes really tough categories blow up for weird reasons. #stayinthegametothefinalwhistle
-- First relay will start in the morning (usually it is 10am or 11am first start, JD will know at the Monday afternoon Team Captains Meeting -- aka "TCM") then subsequent relay waves and races probably for about 3.5 hours total worth of racing.  You will be done no matter what by mid-afternoon.
-- We will have a mandatory USA Relay Meeting the evening prior to Relay day. This may be virtual or it can be in person. Pay attention to Team USA email updates and the Team USA Info Webpage. The quick meeting will go over relay logistics verbally and also allow relay skiers to "see" their teammates ahead of race morning.
-- Everyone that isn't racing and (of course) all alternates please come make a ton of noise, dress up crazy, and let's see those USA relay socks! (face glitter is optional)