Join AXCS
Great benefits year-round! Both USA & international memberships.
Image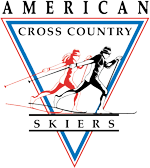 The annual Masters World Cup is always an incredibly exciting opportunity for adult skiers from around the world to experience the excitement of a true international championship athletic event without the rigors and demands associated with the youngsters aiming for Junior and elite Nordic Worlds/Olympics events . As many USA skiers likely to take part in the MWC will not have a great deal of familiarity with the Masters World Cup event, your national masters association (American XC Skiers -- AXCS) has prepared this FAQ to help as a guide.
Scroll to bottom to see a couple useful links.
**************************************************************************
Do I have to qualify to take part in the Masters World cup (MWC)?
Answer: No -- You do not have to qualify for this event in any way.
As long as you are at least 30 years old as of December 31 the year prior -- you are welcome to participate just like any big ski marathon like the American Birkebeiner.
However, please note that every USA skier will need a current American XC Skiers (AXCS) membership. A one year membership (including the best benefit package in ski sport!) is $40. But the best membership value is to get a 3-year AXCS membership that includes the 2021/22 season. Find more info and sign-up for AXCS membership here.
************
Is this event really for my ability level?
Answer: Unless you are a true beginner skier in technique/fitness levels and/or have health problems preventing you from doing any type of Nordic race, we are betting you will have a blast taking part in the MWC.
Every year, USA skiers of an incredibly wide ability and performance range take part in MWC events all over the XC ski world. Sure, some folks are going to be really, really fast out there, but most skiers at the MWC take part for the fun, excitement, and unique event design unlike any other event for adult skiers you can find anywhere.
AXCS has written a ton about why the MWC is a great event for so many skiers here.
************
Who is eligible to represent the USA at MWC?
Answer: To be eligible to race for the USA you can be a USA citizen or a long-term (green card) holder. Same goes for any other nation on the planet you'd like to represent.
But note that in many nations you will not get the same level of service towards national delegations as that provided by American XC Skiers (AXCS). AXCS does a great job because we have a part-time paid contractor administrating our member services, we have one the longest-tenured National Directors within the World Masters Association (WMA), and our USA National Director also is currently the WMA President which helps smooth some international edges (especially given the current state of international "real world" politics when it comes to the USA).
Note also that we take skier's word on national eligibility at the MWC. So if you have your AXCS membership and sign up for the MWC under the USA flag -- that's all it really takes. Since 2004 when he took over leading the MWC trips for the United States, USA National Director J.D. Downing has never once checked any documentation for proof of USA eligibility.
************
What events will be offered during the MWC?
Answer: Both classic and freestyle options will be offered in each of three race distances for your age/gender category. So every category will have a menu of six individual race events offered and then there are the national team relays where USA will be allowed one relay team per age/gender category (see below for a Q&A on how the relay will work).
You are limited to do a maximum of three (3) individual race options offered for your age/gender category at the MWC. For example, a 40-year old woman would be able to select from race distances of 15km, 10km, and 30km in either classic and/or freestyle techniques. But that same woman would not be able to select a 5km or 45km race option as those distances are not offered in her age/gender category. You can see your age/gender category distance offerings on the official event website for any calendar year..
You do not register for the relay. Technically the relay is "free" to any skier selected to represent a given nation. USA selections for that race are nominated by the USA National Director from top USA results in the first four races (medium and short distance races). 
************
How do the MWC relays work?
Answer: The MWC relays are based exclusively on national teams so USA is only be allowed one team per age/gender category. Only when a nation simply cannot field any relay teams at all in any category can unofficial teams be merged with orphan skiers from another nation -- but this is extremely rare with USA contingents as we usually have a lot of skiers.
Selection of the USA relay teams is the sole responsibility of USA National Director J.D. Downing -- skiers cannot form your own teams. All USA registrants will be given a chance before the MWC begins to sign-up on a "USA relay availability list". From that list, Downing will pick all the relay rosters plus the two allowed alternates. If you do not make yourself available to ski the relay, the assumption is that you do not wish to be named (which is perfectly OK).
The official USA team selections will be announced roughly 24 hours prior to the relay day. We will have a pre-relay meeting (live or virtual) to make sure skiers can meet teammates and we can coordinate logistics for each team. You do not need to do any additional registration to be eligible for the relay -- it's included with all MWC registrations.
World Masters Association relay rules are changed as of MWC2022 to be super flexible compared to past years. All official national relay teams are required  to have at least one skier actually from a given age/gender category -- the other three skiers can be that age group or older. 
WMA rules allow nations to drop skiers down in age (example: A 50-year old M5 skier could race in the 30-34 M1 relay), but nations cannot race skiers "up" in age (the same M5 skier could not race on the M6 relay team because he'd be skiing in an older category). The relay rules make team selection quite strategic in many years.
When we have huge contingents of USA skiers taking part in the MWC, that means really tough selections for relay spots. When we have very small USA "teams" in Europe, in some years we are lucky to have as few as 1-2 eligible USA teams for the entire contingent (so we are basically looking for live bodies in certain age groups :-). When we have a lot of options in a given age group, the AXCS National Director always makes the decision on relay selections based on performances during the first four MWC races. 
The relay itself is 4 x 5km with 2 classic and 2 freestyle legs for every category. Generally if you are one of the top two USA skiers (either technique) in your age/gender category, you have an excellent shot at being named to a USA relay team.
Please note that It is very, very bad form to say "yes" on the USA relay availability list -- and then bail out before relay race day unless you have a true emergency. Please only put your name down on the availability list if you are 100% sure you want to ski for USA if your name is called!
************
How will the MWC race starts be seeded?
Answer: Race starts are first seeded by WMA-FIS points that are earned by skiers that took part in the prior four (4) years of MWC events. All other skiers that do not have current points are then placed in a random sort for start position. The MWC starts are very organized with every skier assigned a row and lane position that varies for each race based on who is signed up for each race. The "grid" for the starts typically involve 20 lanes per row with typically no more than 5-6 rows max for only the largest male categories. However, please note that the WMA may change the start to the so-called FIS arrowhead start system pending jury decisions regarding the layout of specific race start areas. The FIS arrowhead system is actually extremely fair even though it is only nine or so skiers wide because it orders skiers in a logical progression of seeding position rather than making every race a jail break. Faster skiers further back can often more easily pass because the entire field isn't taking up the entire trail width after you come out of the start lanes.
Note that every MWC individual event will be comprised of only your age/gender category starting together. The only exception would be for really small categories (typically only the youngest or eldest categories) might be combined together. Most category wave starts are 20-100 skiers in total number -- so really quite manageable.
For truly elite masters that do not have WMA-FIS points (meaning you didn't do any of the last four MWC events) and really want a "good" start position, USA National Director J.D. Downing will accept emailed applications for discretionary seed points. Typically only male skiers between 40-74 years are folks that should overly concern themselves with seed rank. Most of the youngest, oldest, and female categories do not usually have large enough categories and/or enough performance depth for a really strong skier to worry much about getting around folks (in a "worst case" random seed). Yes, fast folks in these categories might have to wiggle around slower skiers in your MWC starts -- but we've had literally dozens of USA skiers pull this off and win medals whenever they had the racing ability to be skiing in the medals. Then from that year on they have seed points so it's only one MWC of doing a bit of extra work!
If you are one of the male skiers in the bigger categories mentioned for ages 40-74 years and feel you justify the label of "elite master" in your age group, feel free to email [ jd at xcskiworld dot com ] and be concise about information that can help J.D. determine an appropriate seeding. Please note that if you are not able to routinely dominate your age group (top three age group in multiple major NorAm marathons or National Masters within the last two years), J.D. probably cannot justify a discretionary seed point profile for you. Please also be super specific when you email as to exactly when/where you collected your top results so that J.D. can verify you are as screaming fast as you claim :-).
************
What kind of waxing facilities and infrastructure is provided at a MWC event?
Organizing Committees (OC) are required to provide a shared waxing location at the venue itself. Some facilities are really elaborate with permanent huts divided amongst the nations, other venues use a large rental tent (or tents). This venue location is available for every official training day and all race days. Sometimes the venue is close enough to lodging that the venue waxing location is a good option for evening waxing throughout the MWC.
The OC is required to make sure waxing locations are within reasonable walking distance or physically of every official lodging option such as a hotel or large block of apartments. These waxing facilities can vary from tents to space in a covered garage to meeting rooms with covered floors. Ventilation in any of these waxing locations varies enormously every MWC as providing a perfect space to glide wax skis for upwards of 100 masters staying at a given hotel isn't a common demand in the lodging industry.
Every official waxing location provides some kind of shelter (tent or garage usually) to be out of the weather, power, tables, light if necessary — but you have to provide everything else in terms of gear and wax. As mentioned in the Pre-Trip AXCS Resource, you'll need to bring or arrange with friends shared use of a waxing iron (note Euro voltage is different!), profile or vices, all tools, all wax. Basically anything that can be easily moved you will need to bring yourself.
Final Notes: Do not count on waxing locations being heated (often really good ventilation means the space isn't heated). Quality of overhead lighting can vary so it can be handy to bring a small headlamp in your baggage. OC wax areas are often ghost towns at dinner time and mid-afternoon on race days (if you aren't racing that day).