Join AXCS
Great benefits year-round! Both USA & international memberships.
Image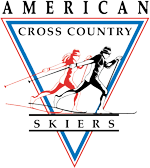 Official AXCS NM2023 Preview Information.....
USA Masters from coast-to-coast are looking forward to March as the 2023 AXCS National Masters returns to Anchorage, Alaska overlaid on the 2023 Tour of Anchorage weekend — March 3-5, 2023.
The AXCS National Masters has used a "overlay" format since 2009 whereas the NM designation is granted each year to existing American Ski Marathon Series and/or North American-hosted Masters World Cup events with the option to add a special short distance event to complete a long weekend program. American XC Skiers (AXCS), the USA national masters association, has found this overlay format to be a viable way to both promote outstanding regional ski marathons and also keep the spirit of a National Masters alive.
2023 events will kick off with a special NM2023 10km classic race on Friday, March 3 at Anchorage's famous Kincaid Park venue.
Then on Saturday, March 4 skiers will enjoy all sorts of traditional activities surrounding the start of the Iditarod sled dog races as well as pre-Tour of Anchorage fun — not to mention all the many attractions offered by Anchorage in the late winter.
Last but certainly not least, Sunday, March 5 will cap things off with Alaska's biggest ski event (and one of the biggest in all of North America), the traditional Tour of Anchorage, which will also serve as the NM2023 distance freestyle championships.
For those folks that haven't skied it yet, the Tour of Anchorage offers an overall downhill "point to point" course which traverses the wilderness of Hillside Park, then enters a series of trails through the residential and city environment, eventually joining with the Cook Inlet Coastal Trail followed by a final climb up the bluffs to Kincaid Park and the finish. Featuring a unique combination of city and scenery, the Tour is a bucket list event every XC skier should experience.
The Tour of Anchorage utilizes three distances and all skiers are welcome to select any distance you wish (you can also opt to classic if that's your preference). But as per AXCS National Masters tradition, only skiers completing the "official" designated distance and technique for your age/gender category will count towards honorary AXCS National Masters Championship podium status -- and the honorary U.S. Masters Team scoring.
For NM2023 purposes, "official" Tour of Anchorage races are:
50km Free: Men 30-59 years
40km Free: Men 60-74 years, Women 30-69 years
25km Free: Men 75+ years, Women 70+ years
There is no separate registration for the 2023 AXCS National Masters overlaid on the regular Tour of Anchor- age events. You'll just sign up for the distance you want to ski on-line like any other Tour of Anchorage year and away you go. NSAA will provide a special sign-up for the 10km classic race.
We look forward to seeing masters nationwide at the AXCS NM2023 in the great white north!
For more information and to register, visit https://anchoragenordicski.com/events/tour-of-anchorage/
****************
Criteria and past honorees for the U.S. Masters Team. Selected each year based on a modified points system for all official racers in each age/gender category.
*****************************************************************************************